Self Catering Holiday Cottages, Draynes, nr St Neot, Liskeard, Cornwall PL14 6RY
Badgers Sett Blog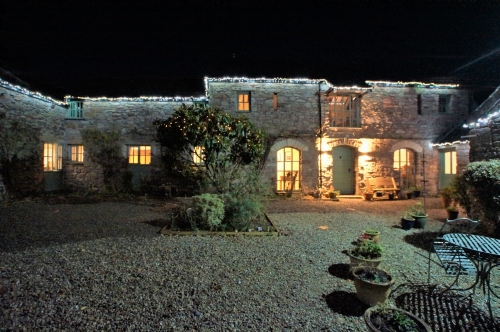 It's Beginning to Look a Lot Like Christmas in Cornwall
It's only gone and happened again .. with what seems like a blink of an eye, Christmas is fast approaching and I for one have some serious catching up to do! The holiday cottages will be looking suitably festive, each with their own individual tree and decorations, just the place for our lovely guests to wind down and relax whilst enjoying the holiday season.
Cornwall is a fantastic place to visit any time of the year, however, Christmas is special in our beautiful county, you will be spoilt for choice as there are so many lovely things to do and places to visit, the whole family will be able to hunker down and explore those Cornish Christmas vibes during their festive winter break.
We have some all time favourites and will definitely be taking time out to make return visits this year, take a peek at our list below to find out more:


Heligan's Night Garden
Heligan is once again pulling out all the stops for a fabulous immersive wander through their lovely gardens at night time. Flora and fauna are enchantingly lit and brought to life via magnificent lantern displays. Some all-time favourites residing in the gardens at certain times throughout the year are making a return to the Night Garden such as butterflies, Tamworth pigs and badgers to name but a few. Toddlers through to the grandparents will enjoy this garden night time spectacle, a fantastic event for the whole family to enjoy.
Stop off along the mile long route to warm up by the fire bowls and indulge in some deliciously toasted marshmallows, hot chocolate and other scrumptious treats.

Of course, it's a must whilst there to do some last minute Christmas shopping at the Heligan Shop, where you will find a fantastic variety of individual and exclusive gifts for the festive season. Click on the link below to find out more.


Plan your visit to Heligan's Night Garden
Heligans Night Garden - Image Credit: Heligan Gardens
Cotehele House
Take the family to see the magnificent garland on display in the Great Hall at Cotehele House and gaze in awe at the sheer natural beauty of this annual festive adornment, a tradition that started back in 1956. The stunning 60 foot spectacle is created throughout two weeks in November annually by volunteers and staff entirely from flowers gathered from the estate earlier in the year and dried in time for use within this special garland during the festive season.

Make sure you are wrapped up warm and cosy to step outside and take a wintery stroll through the estate, stopping off at the Piggary to warm those cold noses and toes with a delicious warming festive mug of hot chocolate !

Follow a twinkling light trail from the Quay to the Mill House to enter a bygone age celebrating a Victorian Christmas, filled with costumes, craft activities and plenty of toys to keep the children (and grown ups) .. amused! After all this activity, make your way to the Sawmill to relax and be spellbound by a session of festive storytelling and making decorations.

There is plenty of inspiration for those oh so hard to find Christmas gifts in the onsite shop and also withinThe Bull Pen Gallery where exclusive, individual items made by artists from Cornwall and beyond can be purchased and treasured for years to come. Click on the link below to find out more.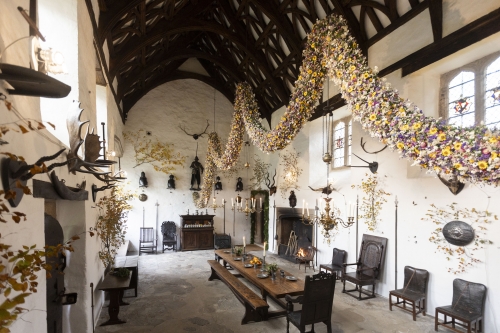 Christmas Garland at Cotehele - Image Credit: National Trust Images, James Beck (Via Visit Cornall)
Mousehole Harbour Lights 2023
One of our favourites and a not to be missed family tradition is a visit to the Mousehole Harbour Lights, which was first started back in 1963 by a lady called Joan Gilchrest who wound strings of brightly coloured lights around the two harbours and since then the festive atmosphere has been added to each year by a committee of hard working volunteers who maintain the lights and raise money for the event throughout the year.

The display of brightly lit cats, serpents, bells, ships and more are a sight to behold and well worth a visit. Pops of festive colour abound around the harbour area. It's a magical wonder through the tiny, bendy streets of Mousehole taking in the original pretty Cornish fisherman's cottages set back from the shore since way back when. Take time to explore the individual galleries and gift shops, many of which remain open for eager shoppers to browse the exquisite and arts and crafts for sale, which are both locally produced and from throughout the UK.

There is a plethora of take away fish and chips, cafes, pubs and restaurants should hunger pangs strike during your visit, however due to the popularity of the lights it's far better to reserve a table beforehand to save possible disappointment on the night as the foodie places get filled up very quickly !

To avoid parking issues it's generally best to either arrive early or park back near the fishing village of Newlyn which works well as you get to see the pretty lights around Newlyn harbour before moving on to Mousehole. It's a bit of an amble, however just down one straight road filled with anticipation and excitement as you approach Mousehole's beautifully festive and iconic lights!

Performances and shows can be seen between 18:30 and 19:30 from December 11th through to January 6th 2024. Click on the link below to find out more.


Plan your visit to the Mousehole Harbour Lights 2023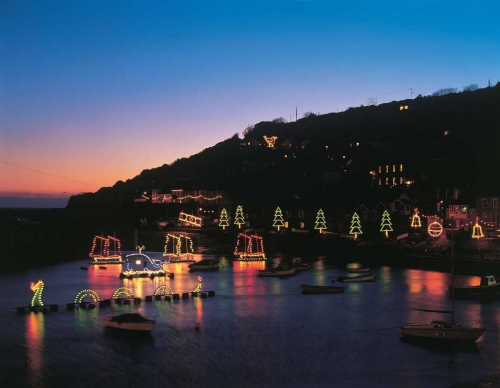 Mousehole Harbour Lights - Image Credit: Visit Cornwall, Paul Watts
Padstow Christmas Festival
One of Cornwall's popular premier events taking place from 7th to 10th December is the iconic Padstow Christmas Festival, which was started back in 2008. A bonus this year is that entrance to the festival is freeeee! There are events within the festival itself where payment for admission will be required.

Massively popular shows such as 'The Chef's Kitchen' featuring Rick Stein, Paul Ainsworth and Nathan Outlaw, joined by a host of 60 plus culinary stars from throughout the UK will be cooking up a storm and entertaining the crowds during the four days of the festival in the Sharp Chef's Theatre and the Festival Kitchen.

The Christmas Market marquee will be filled to the brim with tempting arts and crafts plus a selection of delicious food and drink produced from both talented local artisans and those throughout the country; an ideal chance to kick off purchasing gifts from that seemingly never ending list of people to buy for !

Shopping opportunities abound as many of the shops, restaurants and bars based in the Padstow area will be open, with a selection holding different events for you to join in and capture some of those festive vibes whilst stopping off for some oh so needed refreshment .... be it a glass of something chilled or a warming mug of delicious artisan hot chocolate !

Late night shopping will be available on Friday 8th December from 17:00, providing some much needed time to peruse and purchase some exquisite delights ! Click on the link below to find out more.


Plan your Visit to the Padstow Christmas Festival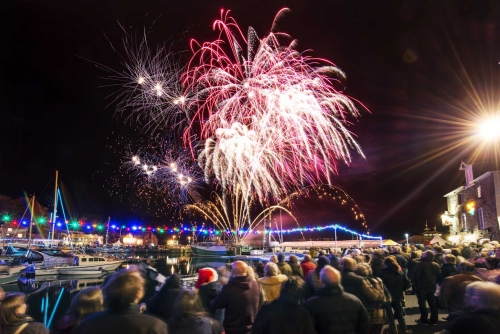 Padstow Harbour During the Festive Season - Image Credit: Visit Cornwall, James Ram
Eden Project
Wrap up warm and head towards The Eden Project for some ice skating fun during this festive season! Skates and skating aids can be hired. Enjoy whizzing round on the ice with friends and family against a background of festive music whilst showcasing some icy moves or maybe just trying stay upright! Younger children are catered for (12 years and under) in the Family Fun sessions, where skating aids can used for free, these sessions take place on various mornings (click on link below to view additional information). Deliciously warming hot chocolate, a selection of alternative hot and cold drinks, along with yummy cakes, burgers and fries can be purchased from the Ice Rink Cafe to quell those hunger pangs from all your recent activity!

Head to the Rainforest Biome to immerse yourselves in the sights and sounds of a tropical paradise at night time. Majestic trees and flora will be showcased and lit by an amazing lightshow. Take in evocative scents of the rainforest as you gaze in wonderment whilst exploring this beautiful paradise after dark! Click on the link below to view dates and times.

Tap out some jazzy moves under the huge circular sphere in the Mediterranean Biome, along to the accompanying sound of uplifting 1920s Jazz music played by live musicians. You will be drawn to the dance floor along with friends and family for some good old fashioned festive jive fun! Click on the link below to view dates and times.

An event not to be missed for the little ones is a special oh so exciting visit to meet Father Christmas and his elf helpers, who will be making their way to a charming log cabin within the Magical Dome Tent in Eden during December as part of a brand new interactive theatrical experience. Little VIPs guests can explore and learn about the magical characteristics of plants and what they do.

During the 40 minute session each little visitor will be given a present to care for whilst watching it grow at home. There will be a chance for that much revered list of wanted presents to be handed over to the man himself during the visit, along with promises to be generally good for the next year! Click on the link below to view dates and times.


Plan your visit to The Eden Project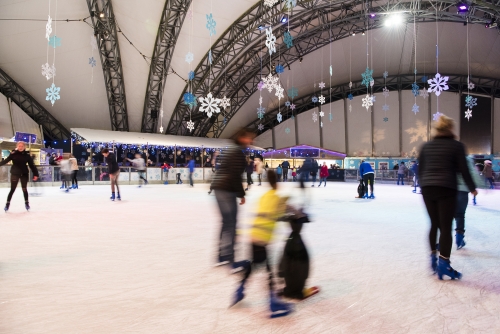 The Eden Project at Nightime - Image Credit: The Eden Project
Date of Post: 25 November 2023