Self Catering Holiday Cottages, Draynes, nr St Neot, Liskeard, Cornwall PL14 6RY
Badgers Sett Blog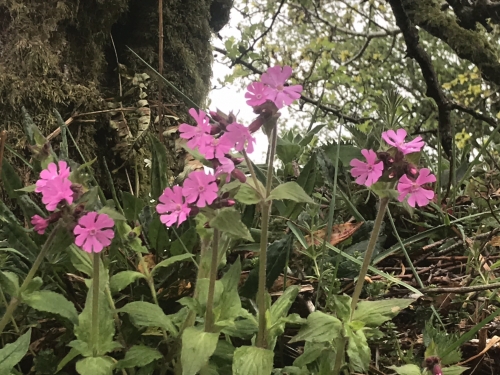 In & Around Badgers !
Things have been hectic here during the lockdown, we have both been working on sprucing up the cottages, including painting all the internal walls white which has resulted in a fabulous lighter and brighter look throughout, which we think you will love!

The externals are now looking very easy on the eye too as the window frames and doors of all cottages and main barn have now been painted in the iconic sage green - Bingo .... what a difference from the original durgy brown stain, we can't wait for you guys to provide us with feedback on the new look when you come to stay !

The Badger's garden is looking fab (pics below), this has been a perfect excuse for 'him who does' to get out the sit on lawn mower and basically have lots of fun! Plus the all-time boys favourite .... to get up close and personal with regular bonfires - which I have to say has been a great way of getting rid of all the rubbish from the refurbs, so bring it on I say!

Read on to check out some more of what we have been up to during lockdown:

Run, Run, Run as fast as I can !
Actually on some days it's more of a sedate stroll through the local lanes surrounding Badgers! They are looking stunning in the sunshine currently beaming down over Cornwall. I am constantly being distracted by the amazing display of colourful wild flowers with different ones now peeking through daily in the local hedgerows.

Unfortunately, there also appears to be an abundance of massive bumble bees who seem to be on a mission to stop me in my tracks as they fly haphazardly in a drunken line buzzing loudly as they do so - the comic effect is immediate as I start to wave my arms around and jump out of their way, causing the occasional (social distancing) passer by much merriment as they watch a mad women doing what must be a local jungle dance!




These Boots where made for Walking ....
Walking and talking (in my case)! is a distraction for both of us and provides a welcome break from 'Project Badgers'.

We have discovered lots of tiny secluded lanes in which to relax and enjoy the pretty, local scenery as we mosey along in the gorgeous Cornish sunshine, chatting as we go .... which until recently remained unnoticed as we zoomed by in our cars.

Badgers is nestled in beautiful countryside within a designated area of natural beauty.
A huge variety of walks from a casual amble for tinies or the not so sure, to vigorous romps across moorland for dedicated hikers, can be accessed from right outside our very own front gate.

Our guests of the four legged variety are also more than happy for their owners to accompany them on their regular strolls - as long as they behave themselves !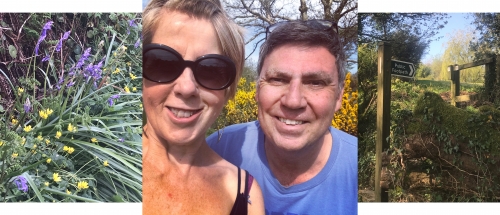 Digging, Planting & Chopping !
It's a real pleasure (most of the time) .... for both of us to get out into our one acre plus gardens and beat them into submission ! We are slowly winning the battle with all the climbers, most of which have been cut back to complement rather than cover the beautiful granite stone fronting the cottages and barn.

I have been planting colourful Azaleas, Rhododendrons, Buddleias and Clematis, filling in spaces where my better half has removed shrubs that have seen better days .... I am constantly looking for holes to fill in nowadays!

Branches from a selection of established trees have been cut back by 'him who does' to encourage new growth and create more light in certain areas of the garden (he says) … whilst I am of the opinion that he simply likes using the chainsaw - Boys and their toys eh!

All the wooden garden benches have now been waxed by yours truly and are ready and waiting for guests to use - no mean feat I can tell you, I was rocking a strange 'self-tan' shade of beech on completion!





We Miss You !
We have been making the very most of this imposed time without our lovely guests by cracking on with lots of the many projects we had planned for Badgers and the holiday cottages.

There is no doubt though that we miss the hustle and bustle of preparing for your arrival, we miss the laughter and sound of people enjoying themselves and most of all we miss welcoming you to Badgers!

We both hope that you will be able to travel to our beautiful Cornish haven very soon for a fun filled and relaxing break in one of our gorgeous family and pet friendly holiday cottages x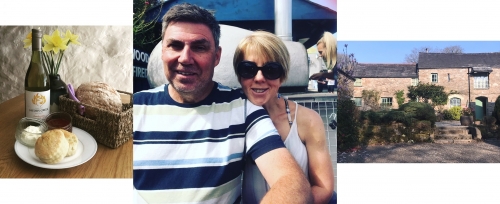 Date of Post: 17 May 2020